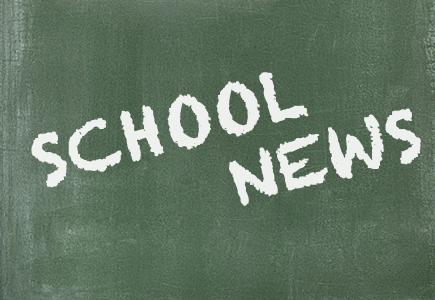 Thank you to the HSCC for hosting the Special lunch and the Raffle Fundraiser!  A special thanks to Melanie Hodges Neufeld for all her time and work organizing this event!
Students in Grades 1-5:  when your parents read this week's "Hawrylak Hello…What's new at school this week?" on the school webpage, print your name and grade on a piece of paper and bring it to the office for our prize draw.  The winning prizes will be "reserved front row seats" at the Christmas concert for each performance!  The draw is on December 17th. We will contact the winning families to let them know that their reserved seats will be ready for them!
Monday, December 10th Day 5
-Grade 7 & 8 Sectionals here at school in PM
-WeACT meeting at noon
-Choir to perform at Barbershop Quartet charity at 7:30 PM at Westminster United Church
-CREATE artist for Mme Radfelder, Mme Gouin & Mme Potvin in AM
-Mme Roy's class to Alex Youck Museum in AM
-Final try-outs for Girls A Basketball at 3:45 PM
Tuesday, December 11th Day 1
-Grades 6-8 Choir at noon
-Grade 6 Band Sectionals here all day
-Mr. Bodnarchuk, Mme Coon and Mr. Fiege's classes are skating at the Al Ritchie Arena in AM
-Final try-out for Boys A Basketball team at 3:45PM
Wednesday, December 12th Day 2
Wellness Wednesday Tip of the Day: worry less… LAUGH MORE!
-Cheer practice at 7:30 AM
-HLC Meeting at noon
-Mme Radfelder's class to Alex Youck museum in PM
-Kindergarten Winter family celebration 2:30 PM in the library and shared learning area
- HLC Candy Cane Sales for $1.00 each
-Choir performs at 10:30 AM at the Regina Public School Division Office
Thursday, December 13th Day 3
-Cheer practice at 7:30 AM
-Grades 6-8 Choir at noon
-Shutter Squad meets 3:45-4:45 PM
-Kindergarten XMAS family celebration 2:30 in the library and Shared learning area
-HLC Candy Cane Sales for $1.00 each
Friday, December 14th Day 4
-HLC Candy Cane Sales for $1.00 each
-Grades 7&8 Heritage Fair 12:45-2:15 PM
-Cheer XMAS Party 3:45-5:00 PM here in the mini-gym
-Grades 6-8 Full Band at Campbell Collegiate in AM
The next few weeks…
-Dec. 17th:  CREATE artist for Mme Radfelder, Mme Gouin & Mme Potvin in AM; No band sectionals
-Dec. 18:  Winter concert for students in Grades 1-5 whose surnames are A-K 1:30 & 6:30 PM (tickets required for evening shows); Cheer Team Bake sale at the evening concert; no band sectionals
-Dec. 19th:  Winter Concert for students in Grades 1-5 whose surnames are L-Z; 1:30 & 6:30 PM (tickets required for evening shows); Cheer Team Bake sale at the evening concert
-Dec. 20th:  Grades 6-8 Choir Travelling day; Mme Boehme, Mme Coon and Mrs. Burton's class are skating at the Al Ritchie Arena; Ms. DaCosta & Mr. Fiege's classes to the Grinch movie; Mme Roy, Mme Gouin & Mme Potvin are taking their classes bowling in AM; Ms. Bishoff and Mrs. Trithart are taking their classes bowling in PM; Junior Achievement in Ms. Anderson's class in AM; no full band
-Dec. 21st:  First Official Day of Winter; Festive Sweater OR Green & Red HLC Spirit day; last day of classes; 2:30 Dismissal; no full band
-Dec. 28th:  Yearbook orders are due
-January 7th:  school resumes; Pink Day t-shirt orders note to go home