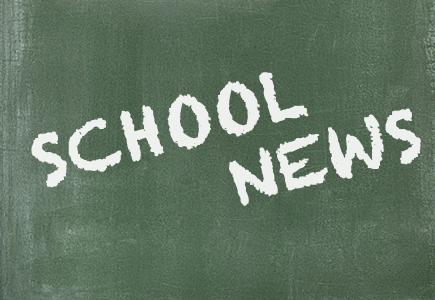 Monday, May 20th 
Happy Victoria Day!  No School for students and staff. We hope that everyone had a great long weekend!
*THANK YOU to all those students who continue to wear their bike helmets and follow bicycle safety rules!
Tuesday, May 21st Day 1
                                                                        -Junior Cheer at noon
-Grade 6 Band Sectionals here all day
Badminton practice at 3:45 PM
-Ultimate Frisbee Clinic:  in AM Mrs. Foster & Ms. Anderson & in PM Mme Boehme & Mme Gaudet
Wednesday, May 22nd Day 2
WELLNESS WEDNESDAY:  The Positives of Outdoor Exercising… 45 minutes really makes a difference!  Reduces sick days; boosts the happy chemicals in the brain; improves self-confidence; improves memory and learning; increases relaxation; improves communication, motivation and productivity and relaxes the strain on eyes caused by artificial lighting.
-Track and Field Meet at Sheldon Williams Collegiate all day (weather permitting) for students who are 10 years old and older.  May 29th is the alternate date.
h is the alternate date at Sheldon Williams. 
-Shutter Squad at 3:45 PM
-Badminton singles home game vs Harvest City 4:00-5:00 PM
Thursday, May 23rd Day 3
-Junior Cheer at noon
-Garden Club at 3:45 PM
-Badminton zone playoffs for doubles (hosting here)
Friday, May 24th Day 4
-Grade 6 Band Tour Day
-Grade 6 Band Concert at Hawrylak for K-Grade 5 at 1 PM
-Grades 7 & 8 Sectionals are cancelled
-Mme Gouin & Mme Potvin's class are going to the RCMP
-EYES Presentation for French Immersion Kinders
The next few weeks…
-May 27th:  Run Jump Throw Program; Badminton practice at noon
-May 28th:  last day of Band sectionals/full band; Badminton practice for city final players; Grades 6-8 Band Concert at Campbell Collegiate at 7PM
-May 29th:  Run Jump Throw Program; Badminton Singles City Finals @Plainsview School; Grades 4-8 Track and Field School Meet at Sheldon Williams Collegiate ALTERNATE DATE; Cheer Wind up at the school from 3:45-5:30 PM
-May 30th:  Badminton Doubles City Finals @ Plainsview School; Grades 7 & 8 Jazz Band to perform; Grades 7 & 8 Hawrylak Jazz Band performs in the main gym for Grades 5-8
-May 31st: Run Jump Throw Program
June 2nd:  SCC Special Lunch orders are due today on https://healthyhunger.ca/
-June 3rd:  Grade 6 immunizations; Mme Radfelder's class to the RSM
-June 4th:  English Kinders to walk to McKell Wascana Conservation Park in AM (weather permitting); South Saskatchewan Reading Council Young Author's Night at WKC @7PM for 5 of our students; Ramadan ends; Eid al-Fitr 2019 will begin in the evening of Tuesday, June 4 and ends in the evening of Wednesday, June 5.  Eid Mubarak is a traditional Muslim greeting reserved for the holy festivals of Eid al-Fitr and Eid al-Adha. "Eid" means "celebration" and "mubarak" means "blessed". The saying can be translated as "have a blessed holiday" https://www.timeanddate.com/holidays/canada/eid-al-fitr
-June 5th:  English Kinders to walk to McKell Wascana Conservation Park in AM (weather permitting); New Kinders for Fall 2019 & Parents Orientation Meeting at 6:00 PM in the gym; Track and Field Multi-School Track Meet at Douglas Park Sports Complex