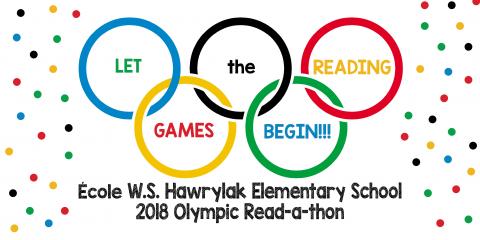 In celebration of the upcoming 2018 Winter Olympics being held in PyeongChang, we are excited to launch our first annual Ecole W.S. Hawrylak Read-a-thon!  The Read-A-Thon is a chance to inspire our students, and their families, to read their way to a Gold Medal!
Our Olympic Read-A-Thon will take place over 12 days, beginning on January 29th and ending on February 9th. 
During the Read-A-thon, every time you read or listen to someone read (outside of classroom hours), you record the number of minutes on your Reading Log and have a chance to win awesome prizes!  Gold Medal reading is an ipad 32GB; Second Medal reading is a water sliding party at Soaked Waterpark Travelodge Hotel and Bronze Medal reading is 8 Regina Pats tickets to the March 16th game and Pats merchandise. Additional Olympic prize packages available to be won include 4 Regina Pats tickets, Mastermind Toys Package, $50 Gift Card to Boston Pizza and 4 combo passes to the Saskatchewan Science Centre/IMAX.  Many more prize opportunities are available for individual awards and classrooms.
***Please click here for the all the details about reading training tips (the rules), prize podium and reading log sheet.
Thank you to our many families who donated prizes for this wonderful school wide event! 
January 29th we will have our Opening Ceremonies Assembly to begin the official start of the 2018 Read-A-Thon!  Read... Read...READ!