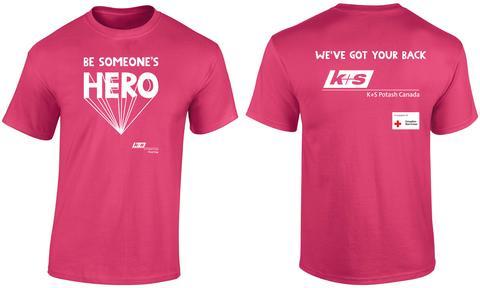 Dear Students and Families:
Hey Saskatchewan!
We challenge you to be #BeSomeonesHero


​

for Red Cross Pink Day
Can you believe it has already been 12 years since two boys chose to take action against bullying behaviour by encouraging their peers to wear pink? Their actions sparked a world-wide movement shedding light on the issues surrounding bullying and inspiring others to Be Someone's Hero by speaking up when they see bullying happening. Since then, over hundreds of thousands of people in Saskatchewan have participated in Red Cross Pink Day celebrations. We encourage you to join us this year and help change the culture around bullying in our province!
We are pleased to provide an opportunity for our students, staff and parents to purchase their own Pink Day T-shirt for the cost of $8.00 each.  This year's t-shirts are pink with white font (see sample below).  For more information:  https://www.redcrosspinkday.com/
The Red Cross Day of Pink in Regina Public Schools is scheduled for Wednesday, February 27th, 2019.
On February 27th, we will be encouraging everyone to wear pink OR a Pink Day t-shirt (some students and staff may still have their t-shirt from previous years) and show the world that we can imagine no bullying. It takes a year-round, whole community approach, but together we can help stop bullying behaviour.  Red Cross Pink Day is a time to bring awareness to bullying issues in Saskatchewan and encourage others to join the movement for positive, healthy relationships.
If you and your family members are interested in purchasing your own Pink Day t-shirt, please complete the order form and include payment (cash, cheque or online), by Friday, January 11th, 2019.  Students can wear a different pink shirt for February 27th if they choose to do so.  This T-Shirt purchase is optional.  Click here for order information and payment options.
Sincerely,
Mrs. L. Frei       Mme F. Pelletier
Principal            Vice-Principal
Youth Short Sleeve Tee – measured in inches 
| | | | | | |
| --- | --- | --- | --- | --- | --- |
| Size | XS | S | M | L | XL |
| Chest Across (Width) | 16 | 17 | 18 | 19 | 20 |
| Body Length | 18 | 20 | 22 | 23 | 25 |
Adult Short Sleeve Tee – measured in inches
| | | | | | | | | |
| --- | --- | --- | --- | --- | --- | --- | --- | --- |
| Size | S | M | L | XL | 2XL | 3XL | 4XL | 5XL |
| Chest Across (width) | 18 | 20 | 22 | 24 | 26 | 28 | 30 | 32 |
| Body Length | 28 | 29 | 30 | 31 | 32 | 33 | 34 | 35 |