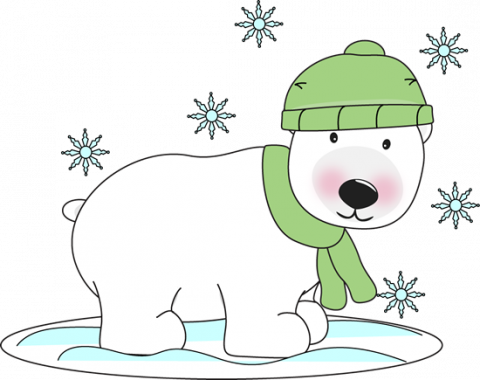 The École W.S. Hawrylak School Polar Bear Club (Grade K – 5)
During the winter months, we are required to have recess indoors when the wind chill is -25o C or lower. If students are adequately dressed, they don't mind this temperature to get outside for a few recesses.  Days spent entirely indoors are long and difficult for many students who enjoy playing outside. It is a great brain break for some fresh air too!
This winter at École W.S. Hawrylak School, we invite students in Grade K - 5 to join The Polar Bear Club.  With parental permission and warm clothing, including hat, mitts, face covering, jacket, snow pants and boots, students will be able to be outdoors at recess to enjoy our winter weather. If students feel too cold while being out, they will be allowed to go in the boot room to warm up for a few minutes. Playground supervision will be in place for all the 'Polar Bears' and students who do not wish to participate will remain indoors with supervision as well.
Please complete the form below and return it to school if you wish your child to participate in The Polar Bear Club for the Winter of 2018-19. If you have any questions, please contact Mrs. Frei or Mme Pelletier.
CLICK HERE for the permission note.
Thanks! Merci!
Sincerely,
Mrs. L. Frei                  Mme F. Pelletier
Principal                       Vice-Principal