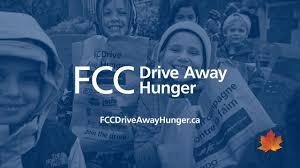 Because hunger still exists…
According to Food Banks Canada, more than 4 million Canadians – both working and unemployed – live with food insecurity. And a third of them are under 18.
Since its start, FCC Drive Away Hunger has collected more than 50 million meals directly benefiting food banks and school feeding programs in Canada. But there's more work to do – and we need your help.
École Hawrylak School will be participating in this year's Food Drive for FCC. Please send food items to your child's classroom during the next couple of weeks. There are two ways your child can participate. If you can, please send food items to school with your child to support this program. You also have the option to send a monetary donation with your child to school.
The deadline for this collection is Thursday, Oct 10th.
Most needed items
Pasta, rice and sauces

Canned meats and fish

Meat alternatives (packaged nuts, peanut butter, soy)

Beans, soups and stews

Canned and powdered milk

Canned fruits and vegetables

Whole grain cereals

Infant foods and formula

Cooking supplies (flour, oil, spices)

Cash for the food bank to purchase fresh items
Thank you helping those in need!
Hawrylak Huskies – Helping Others!