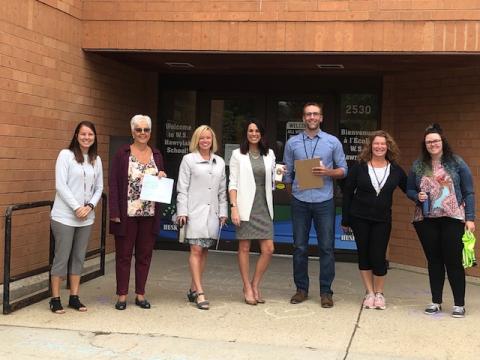 "Working and Learning Together" at Ecole W.S. Hawrylak School
The Education Week theme for 2019 was "Working and Learning Together". Our team and families joined together to promote learning, leadership and future success.
Our annual Muffins & Books event for K-5 families was a hit! Hundreds of families came to enjoy literacy with their loved ones.
Parents and community members were invited to present to students in their area of expertise. We had a week-long "Innovation Convention" for students, where teachers signed their classes up to attend presentations suited to their age and content level. 
Throughout the week we had 18 dynamic presentations! Presenters included: an Astronomical Engineer who is helping build the world's largest telescope, an RN, Entrepreneurs Kip Simon (22 Fresh) and Denis Jones (Devereaux) on how to turn a concept into reality, a Human Resources Professional discussing leadership and perseverance, a Database Developer from China, a Paediatric Dentist demonstrating the effects of acid on teeth and importance of fluoride, Agriculturalists presenting on food production, SK resources, GMOs and pesticides, a Geotechnical Engineer providing hands-on learning opportunities to demonstrate soil foundations, a Mortgage Broker teaching basic financial literacy and female empowerment, a Real Estate Agent teaching about relationship building and entrepreneurship, a Crane Operator with emphasis on the importance of Trades, and a Sask Power Manager on how power is generated and how Sask Power contributes to the Indigenous Economy. There were also parents that came to educate students in areas of interest, such as waste reduction! It was a powerful week of partnership and learning in action!