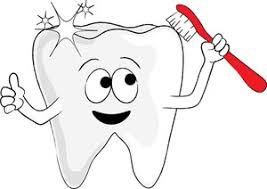 The Saskatchewan Health Authority Oral Health Program offers services to schools that have not met the Canadian Oral Health Framework objectives for the 2018-19 oral health screening of students in grades 1 and 7. A fluoride varnish program is being implemented at your school for students in Pre-Kindergarten, Kindergarten, grade 1 and grade 2. Children enrolled in the fluoride varnish program may receive two applications of fluoride varnish per school year until the end of grade 2.
 Fluoride varnish is a protective coating that is applied on teeth to prevent cavities. It can also be applied on teeth that already have cavities. Fluoride can slow down or stop cavities from getting bigger. This does not replace regular checkups at your dental office as your child may still need dental treatment. Along with being safe, fluoride varnish is an inexpensive and practical way to reduce tooth decay.
A dental health educator will be at your school on November 19th – 21st for the first application of fluoride varnish. Please watch for information and consents coming home with your child. Your consent will stay valid until your child completes grade 2 or until their consent is withdrawn.