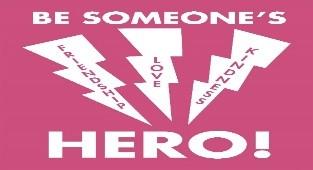 Dear Students and Families:
Pink Day started in 2007, when a grade nine student in Cambridge, Nova Scotia was bullied by classmates for wearing a pink shirt to school. Taking notice, two students rallied their peers to send a message to the bullies. The next day, the halls were filled with students in pink T-shirts.
Red Cross Pink Day started because two boys chose to do something about bullying rather than stand by and watch it happen. Now the movement is worldwide, educating and inspiring others to stand together and take action against violence and bullying.
The Red Cross Day of Pink in Regina Public Schools is scheduled for Wednesday, February 26th, 2020. On this day will be encouraging everyone to wear pink OR a Pink Day t-shirt (some students and staff may still have their t-shirt from previous years) and show the world that we can imagine no bullying. It takes a year-round, whole community approach, but together we can help stop bullying behaviour.  Red Cross Pink Day is a time to bring awareness to bullying issues in Saskatchewan and encourage others to join the movement for positive, healthy relationships.
We are pleased to provide an opportunity for our students, staff and parents to purchase their own Pink Day T-shirt for the cost of $10.00 each.  This year's t-shirts are pink with white print (see sample below). If you and your family members are interested in this OPTIONAL purchase, please visit the School Cash site and place your order and payment online (http://rbe.schoolcashonline.com) by Thursday, January 23rd, 2020. The school will not be accepting any orders at the school. The front design for the shirt is shown below and the back of the shirt displays the K+S Potash logo.   
YOUTH Short Sleeve T-Shirt sizing chart: All Youth sizes (S-XL) $10.00 CAD, taxes included.           
| | | | | | | |
| --- | --- | --- | --- | --- | --- | --- |
| Size | XS | S | M | L | XL |   |
| Numeric Size | 2-4 | 6-8 | 10-12 | 14-16 | 18-20 |   |
| Chest | 24-26 | 26-28 | 28-30 | 30-32 | 32-35 |   |
| Body Length | 19 | 21 | 23 | 25 | 27 |   |
ADULT Short Sleeve T-Shirt sizing chart: Adult sizes (S-XL) are $10.00 CAD, taxes included; 2XL and 3XL Adult shirts cost $13.00 and $15.00 respectively.
| | | | | | | | | | |
| --- | --- | --- | --- | --- | --- | --- | --- | --- | --- |
| Size | S | M | L | XL | 2XL | 3XL | 4XL | 5XL | 6XL |
| Chest | 34-36       | 38-40 | 42-44 | 46-48 | 50-52 | 54-55 | 56-57 | 58-61 | 61-64 |
| Waist | 29-32 | 32-35 | 35-38 | 38-41 | 41-44 | 44-47 | 47-50 | 50-53 | 53-56 |
| Body Length | 32-33 | 34-35 | 35-36 | 36-37 | 37-38 | 38-39 | 38-39 | 39-39 1/2 | 39 ½-40 |
Thank you for your support of this initiative,
The Pink Shirt Day Committee