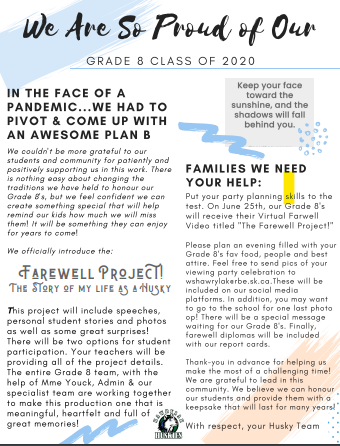 We Are So Proud of Our
G R A D E 8  C L A S S  O F  2 0 2 0
IN

THE

FACE

OF

A

 

PANDEMIC...

WE

HAD

TO

PIVOT

&

COME

UP

WITH

AN

AWESOME

PLAN

B
We couldn't be more grateful to our
students and community for patiently and positively supporting us in this work. There is nothing easy about changing the
traditions we have held to honour our
Grade 8's, but we feel confident we can create something special that will help
remind our kids how much we will miss
them! It will be something they can enjoy for years to come!
We officially introduce the:
Farewell Project!
The Story of my life as a Husky
T

his

project

will

include

speeches, personal

student stories

and

photos

as

well

as

some

great

surprises!
There will be two options for student participation. Your teachers will be providing all of the project details.
The entire Grade 8 team, with the help of Mme Youck, Admin & our
specialist team are working together to make this production one that is meaningful, heartfelt and full of
great memories!
FAMILIES WE NEED YOUR HELP:
Put your party planning skills to the test. On June 25th, our Grade 8's will receive their Virtual Farewell
Video titled "The Farewell Project!"
Please plan an evening filled with your Grade 8's fav food, people and best
attire. Feel free to send pics of your viewing party celebration to
wshawrylak@rbe.sk.ca.These will be included on our social media
platforms. In addition, you may want to go to the school for one last photo op! There will be a special message waiting for our Grade 8's. Finally,
farewell diplomas will be included with our report cards.
Thank-you in advance for helping us make the most of a challenging time!
We are grateful to lead in this
community. We believe we can honour our students and provide them with a keepsake that will last for many years!
With respect, your Husky Team