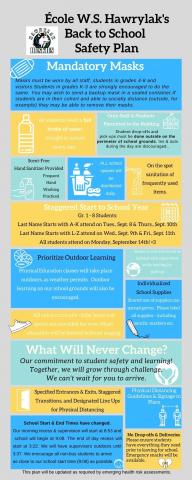 Click here for our opening Handbook and everything safety. 
Check out our Safe Return Infographic 
Check out our comprehensive: Safe Return to School Handbook
Check out our current Division Wide Safe School Return Manual - Up-to-date as of August 27th
Frequently Asked Safe School Return Questions:
Safe School Return Questions:
1. If I choose eLearning will my child lose their place in their classroom. 
If you are interested in eLearning please know that your children will stay connected to Hawrylak school. We will keep them engaged in anything extra that we have going on and will continue to ask them to participate in spirit days, school pictures etc. 
We want families to do what they feel is best and safest for their families. There will be zero judgement. Walking through a pandemic is only manageable if we are all supporting one another! We are in this together. 
2. Can my child bring sanitizer for the playground?
One awesome parent thought of sending their child in a fanny pack with an individual supply of Hand Sanitizer. Please ensure that all personal sanitizer you send is scent-free. This fanny pack could be worn outdoors during noon recess. This way a student can sanitize after playing and prior to entering the classroom. Purses are not permitted as they are a choke hazard on the playground.
3. What will Kindergarten look like for my child?
We will have our Kinder teachers prepare a video to show your child prior to entering school. Our classrooms will have approximately 15-20 students in each class both French and English. We will work on ways to have kids explore curriculum and play safely. All classrooms are provided with a disinfectant mist that will be used between students playing with any materials. Children will receive forward facing instruction.
4. Will kids be required to wear mask on the playground?
All students will be required to wear masks on the playground when they can't socially distance. K-3 students are strongly encouraged and Grade 4-8 will be mandatory. 
5. Will students be 6ft apart in the classroom?
We are unable to properly distance kids in the classroom. Therefore in K-8 all students will strongly be recommended to wear masks all day. In Grade 4-8 it will be mandatory (if your child is unable to mask due to a medical condition, please let the school know as soon as possible.)
6. Can my child return to school from eLearning in the middle of the year?
They can return  back to school on November 23, February 1st or March 22nd.  After our Conference Days or Report Card Days. You must commit to eLearning up until these break times.
7. Will my child be able to have their mask off in class?
K-3 we highly recommend masks all day. Many teachers are providing a space where they are able to socially distance and remove their mask for a break.
Grade 4-8 will wear them all day unless they can distance. 
8. How will students maintain distance on the playground?
We have moved our recess break to the beginning and end of the day. We would really appreciate having your child arrive as close as possible to 9:08 and leave as close to 3:22 as possible. During Lunch our English students will have a recess break from 11:45-12:00 and French students from 12:30 -12:45. On the playground the cohorts are much larger. We encourage families to keep kids home for lunch and have them return as close to 12:45 as possible. Masks will need to be worn unless students can find a space that is 6 ft from their peers. We ask students to bring any ball or equipment they want to use on the playground from home and to only share with their cohort. A disinfectant mister can be used on the equipment once they arrive in the classroom. The fewer kids we can have on the playground at one time the better the kids will be.
9. Day One – What will it look like?
Your child's teacher will contact you and let you know of the number they will be holding up starting at 8:53 – 9:08 on the playground and the location she/he will be waiting in. You will say good-bye outside of the school playground and your child will go to check in with their teacher at that spot. We will have a lot of staff around to help students out. Please remember to send your child in a mask on day one.  More details will come.
We will have staff waiting outside the front door for any students who are late. However, we ask that you arrive as close to 9:08 as possible.
We kindly ask that all families be prepared to remain off of the school grounds. Please, prepare your child for this farewell prior to day one. Also don't forget to check the staggered start dates. If your family has last names that fall on both dates, please choose which of the two your child will attend and communicate this with your child's teacher.
 
Dates to Note:
We have a few dates we can share with you for the upcoming year:
Fall Conference Day – November 19th (All Grades) November 18th - A Day Kinders
Spring Conference Day – March 19th (All Grades) March 18th – B Day Kinders
Picture Day – October 5th – (A Day) K-4  October 6th (B Day) K & 5 -8
Retakes – November 4th – 10am
We are truly in this together. All hearts and hands on deck to make for a safe return for our Huskies!