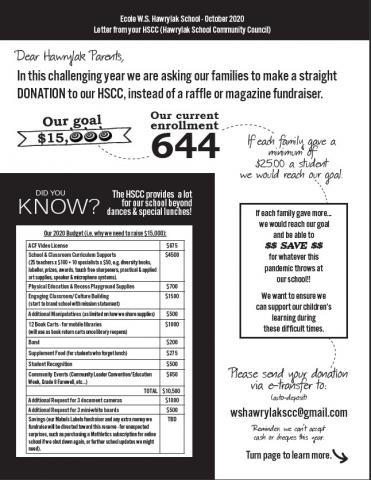 Given the complications Covid-19 presents our SCC has decided it is best to do a straight donation fundraiser this year. 
Please etransfer your donation to wshawrylakscc@gmail.com (Auto-Deposit has been set up). 
To read the full fundraising newsletter Click Here.
Your generosity makes a HUGE difference in the education of your children. To learn more about how this money is spent watch this 5 min "MERCI/THANK-YOU" video from our staff. Click Here
It is inspiring to see all the ways your fundraising money supports our school!
Also thank you to our SCC for coordinating, supporting, collaborating and cheering on all that we do! 
Together, we are impacting our future! (And...Hawrylak community you should be so proud...our future looks BRIGHT!)